Joliens top 10 personal favorites
March 3, 2020 In
Blog
We get this question a lot: what's your favorite Studio Flash letterpress card?
And to be honest, I think my answer is always different. Hihi. So picking only 1 favorite card, no, that's not gonna work.
Let's make my personal top 10 of our Studio Flash letterpress collection 😉 !
Totally unbiased 😃
1. A02 'Party Lama'
Well, it might not be the most beautiful drawing I ever made, and I guess it is kind of egocentric to choose a design of myself as the first one in my personal top 10, yes, I know, but i have my reasons. This card is on of the oldest cards of our collection. It still stands strong and even after all these years is one of the bestsellers of 2019. I don't know how many Party lama's we sold over the years in total, but it most be around 5000 times. Lots of lama's partying, right? This lama also symbolizes my self-esteem when it comes to drawing and designing my very own cards. As you might know: I am not a graphic designer or illustrator. I am a sociologist 😉 I did not study sketching lama's whatsoever. No problem at all, apparently, and when I look at this Party lama I know it doesn't matter. It doesn't matter what you did or did not study, what your degrees are, how fancy your drawing equipment is (this one is drawn on a very basic & cheap Samsung tablet with a pen we got for free) or how much time you spend on it (10 minutes? Maybe? Even less on this one? 😉 ). You earn 1000 of euro's with a little creator like this Lama having a party.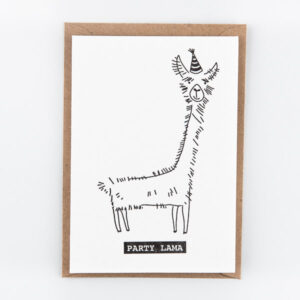 2. C16 'Jij lekker dier'
This one has to have a very high place in my top ten. I am even thinking about getting it tattooed somewhere on my arm or something. Joachim made this 'lekker dier' (loosely translated: sexy beast) and somehow it makes me so happy every time I look at it. Joachim might not agree but for me it is the perfect drawing of a crazy little fox, the perfect amount of awkwardness versus skills. Or something that sounds like I know what I am talking about 😃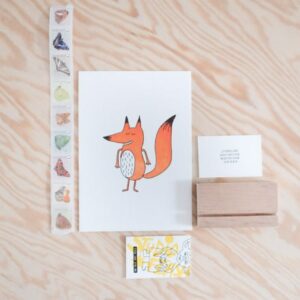 3. C47 'I love you to earth and back'
There has to be at least one card with a blue gradient in my personal top ten of Studio Flash letterpress greeting cards, right? it became one of our key features: printing gradients. I love it, because the result is so beautiful. But I also love our gradients because it is part of our history as autodidacts. I am not an illustrator or graphic designer, and so isn't my husband Joachim. And we even had no experience whatsoever with printing, especially not with letterpress printing. It is all due to Youtube and Google, many hours online and many hours of trial and error Joachim somehow mastered the printing part of our business. And it is mainly because of our naivety and open-mindedness we came up with printing these gradients. It is our very own technique based on our very own logical thinking and trying out new things.
So why this one with the aliens in space? Its a drawing by our co-worker Esther, and first of all I like the drawing itself. Secondly I really like the reference to the more cliche version of the quote used over here "I love you to the moon and back". I like it that we came up with a different take on it, laughing a little bit with the over use of the original quote. And I really like the way the earth is almost invisible, it gives the images more depth and makes it more exciting.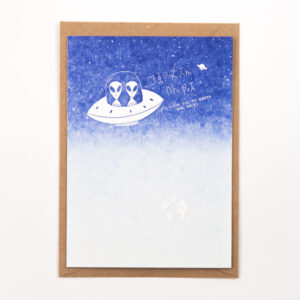 4. A53 'Confettigirl'
The confetti girl, oh, she steals every heart! 😃 It just works, and I love the way the red of her little dress and shoes is not outlined in black. These little details make it into one of my favorites. And since this little confetti girl sells like hell, I guess I am no the only one loving her positive attitude!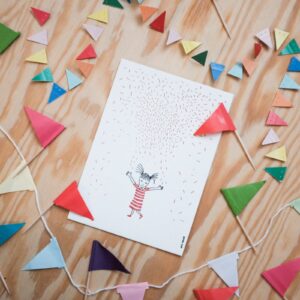 5. Z34 'Sexy christmas'
I designed this one myself. #proud And I still like it. It's inspired by an old Playboy cover, if I remember it correctly. I think it's quite sexy and empowering at the same time. #newfeminism
6. Q02 'Happy baby – happy parent'
Oh. This one comes with a long story of how it felt for Joachim and me to become parents for the first time. And how we struggled with it the first months. And how sometimes we still struggle. I'll skip to the best part: somewhere along the struggles we combined all of the well-meant advice into this simple diagram. Because that's what matters the most. Oh, and i like the colors. Oh, and I like the fact that it doesn't say happy baby – happy mommy. I hate it when it's only about the mommies, like there are no fathers? Let's just use the more gender neutral word parent ;).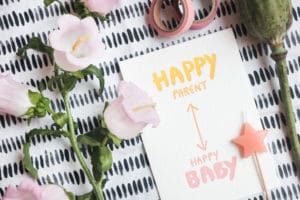 7. F35 'Bring on the choco'
It should be my life motto. It isn't. I need a reminder now and then. This card does the trick!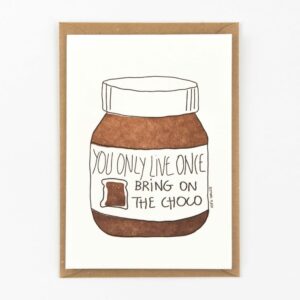 8. I16 'Cat on a grass machine robot'
I like e-ve-ry-thing about this card.I mean, a cat always makes you smile. And one of these grass machine robots, OMG, how funny are they? I don't know how popular they are in other countries, over here in Belgium people tend to like a well mowed little lawn. Haha. It cracks me up every time I see such a small machine strolling around a lawn. I like the grumpy expression on the cats face combined with the party hat. And I definitely like how you see a line of mowed grass where the robot must have worked its automated magic.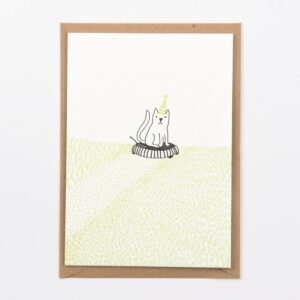 9. C49 'Ti amo'
Joachim is not going to like this choice :). I know he is not that into this card, but I am. I like the overall result and I like the fact that we made it together. I drew the spagetti, Joachim drew the horses. And I think that turned out to be very romantic 😉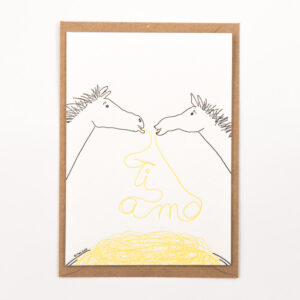 10. Z51 'May all your pinterest dreams come true'
I am a huge Pinterest and Instagram scroller. Never ending Pinterests feeds with dreams and hopes fill my account. I virtually created many Pinterests dream lives, with beautiful houses, several wedding parties, perfectly styled little children, and always cute newborns who never poop or cry. I love the tensions between dreaming and creating your dreams. And how it depends on the lighting, photography skills and styling of your pictures ;). I mean: who didn't try one of those dreamy pinterest ideas and totally failed at it? And when you did not fail, you took million pictures and posted them all over the place, right? At least I did. But if all your Pinterest dreams did come true, would it make you happy? I don't think so. So this card comes with a sting, and that's how I like it. 😃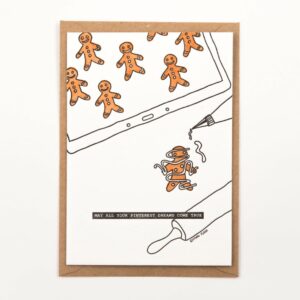 ---
You might also like