Our NY resolutions for 2020
January 1, 2019 In
Blog
Our new years resolution for 2020 is on!
What do want to achieve/accomplish in this magical year called 2020 with Studio Flash?
1. CO2 neutral
Our biggest goal this year, something we did not dive into before, is compensating the CO2 emissions of our entire company and private life. Since we do think our emissions will not be that exuberant, it is just not that easy to calculate it :). That's the main challenge of this goal, I suppose: calculating our CO2 emissions of 2019. And how do we want to compensate this? By planting trees! Ourselves! Here in our 'backyard'. Well, it is not our own back yard, it is the local communities school playground located at the back of our house/HQ.
2. Waste reduction
Compensating CO2 would be all for nothing if you don't do your best minimizing it in the first place. One of our goals for 2020 is reducing our waste. We are working on something new to achieve this goal ….
3. Launch AFTRPRTY
Our new brand: AFRTPRTY (pronounced: afterparty). This brand will unite all of our upcycled and recycled products. We already make upcycled envelops & notebooks, and they are going strong! But that's not enough. We are currently working on making completely new products out of our own paper waste and the waste of local restaurants and bars as well. Exciting, right?
Due date: Maison & Objet, friday 17th of January!
4. Exclusivity vs international growth
It is our policy to not work with big chain companies (and yes, we had to say 'no' quite a few times for this one), and we will continue this policy in 2020 of course! But we do want to grow a little bit more, so we can create way more fun & beauty :). That means: going international. And therefor you will find us at Maison & Objet this January and Showup this February! #goingforit
5. At least 50 new designs
In 2020 we will of course launch a lot of new designs for our letterpress cards as well! At least 50 of them, like we do every year. We are currently working on the first launch of 2020 and it looks goooooooooooooood!
6. Social Manifesto & Environmental Manifesto
These resolutions made us reflect a little bit on our company, our way of life, and how we want to do business and change the world a little bit at the same time. 😃 You know the feeling? Well, we are working on our very own Social Manifesto & Environmental Manifesto. More about that later on…
7. Flashy creativity for life!
Last but not least: we want to make 2020 into one big flashy creative party! 😃 Creating stuff, designing, making things, that's what we are all about. That's why we do what we do.
Let's go!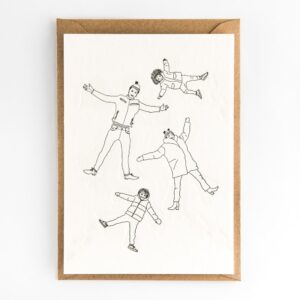 ---
You might also like